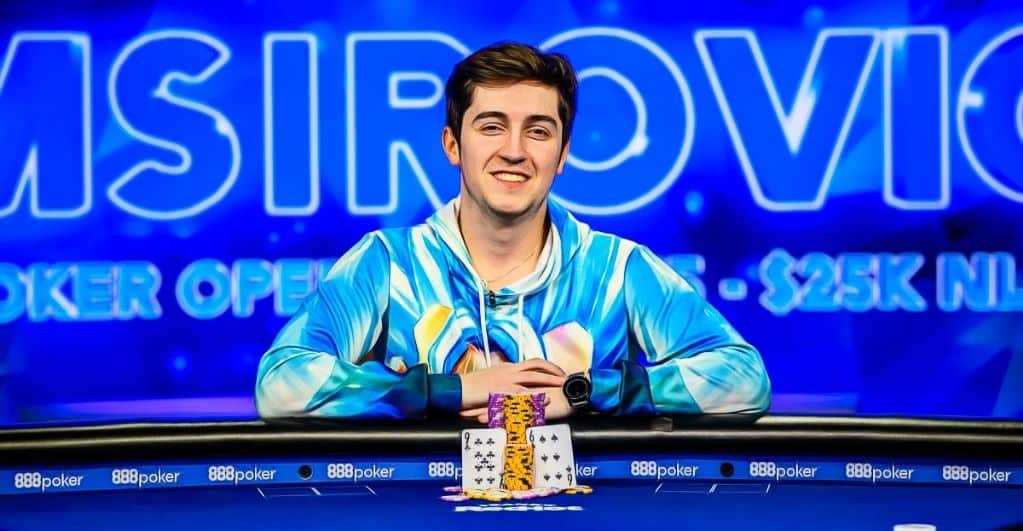 Ali Mitrovic emerged victorious at Event #9. The $10,000 No-Limit Hold'em tournament of the 2021 U.S. Poker Open.
Triumphant of the event, Ali surpassed Joe Mckeehen as the leader for the Overall Championship. There are just three remaining scheduled events to go.
Match Summary
The event began with the participation of 99 players that came down to the wire with seven players on Saturday.
Ali held the chip lead of $5.075 million, the player closest to his winnings was Venessa Kade, making her maiden appearance at the U.S Poker Open Fray had $1.715 million in chips; next to her was Cary Katz. He had $1.455 million.
The turn of events happened when Jake Schindler had put the majority of his chips on a K-9 against Katz, who held pocket sevens, but with a King on the flop gave Jake a necessary lead in the game until the river marked his exit as the card showed seven of clubs giving Katz a Three of a Kind.
Katz maintained his momentum by first defeating Thomas Winters in the sixth, with his Big Slick kicker against Winters' A-3 followed by the departure of Hall of Famer Erik Seidel with his pocket Jacks, taking him out at the 5th place.
Despite Kartz's winnings, Imsirovic had an easy lead as Katz, Lichtenberger, and Kade competed with the same amount of chips.
Lichtenberger made the game narrower by eliminating Kade for fourth place, and later Mitrovic defeated Katz to go heads up with a significant chip lead.
Both Lichtenberger and Imsirovic went heads up against each other for the final hand, where Lichtenberger would go all-in with his K-J; Imsirovic with J-6 made the call.
With eyes on the table, both players caught nothing on the river, but the luck seemed to be in favor of Ali as the turn card took out a 6, giving him a much-needed lead, with Lichtenberger eyeing on the river ended up at 2nd place as the card didn't bring any support for him, making Ali Event #9's champion.
1. Ali Imsirovic, $217,800
2. Andrew Lichtenberger, $158,400
3. Cary Katz, $118,800
4. Vanessa Kade, $94,050
5. Erik Seidel, $74,250
6. Thomas Winters, $59,400
7. Jake Schindler, $49,500
Imsirovic leads the Overall Championship Race
After being victorious in event #9, Imsirovic moved up as the Overall Champion for 2021
U.S. Poker open with still three more matches to go
With 406 points, Mitrovic is sitting at the top, beating Joe Mckeehen, who was previously leading the table
1. Ali Imsirovic, 406 points
2. Andrew Lichtenberger, 308
3. Joe McKeehen, 302
4. Steve Zolotow, 289
5. David Peters, 243
6. Dan Shak, 236
7. Maxx Coleman, 231
8. Cary Katz, 227
9. Alex Foxen, 223
10. John Riordan, 222