Casino and Esports have grown in popularity in recent years. What began as a small hobby has grown into a global phenomenon with billions of dollars in prizes. Although the gaming industry has remained largely unchanged, exposure to high-speed internet and live streaming has given the industry an uplift, laying the foundations for online gaming. Gamers are increasingly regarded as highly skilled professionals, and the eSports industry is expanding. However, read our Duelbits review further and know about the gambling site in detail.
Duelbits is a newcomer to the CSGO gambling industry, but its numerous features have drawn gamers from all over the world. It was just launched in 2020, but because of a magnificent selection of games and swift transactions, it has quickly acquired appeal among the general population.
What Is Duelbits?
Duelbits strives to provide easy and rapid access to cryptocurrency games while also giving fun and substantial rewards. Duelbits is primarily concerned with cryptocurrency gambling. Duelbits accepts a variety of payment options, including credit cards and PayPal. Players may use PayPal to finance their accounts on the CSGO gaming platform.
The sign-up and registration processes of Duelbits, as well as bitcoin payment options, are both simple and quick. Due to the lack of KYC verification, while signing up, users may start playing on the Duelbits platform right away.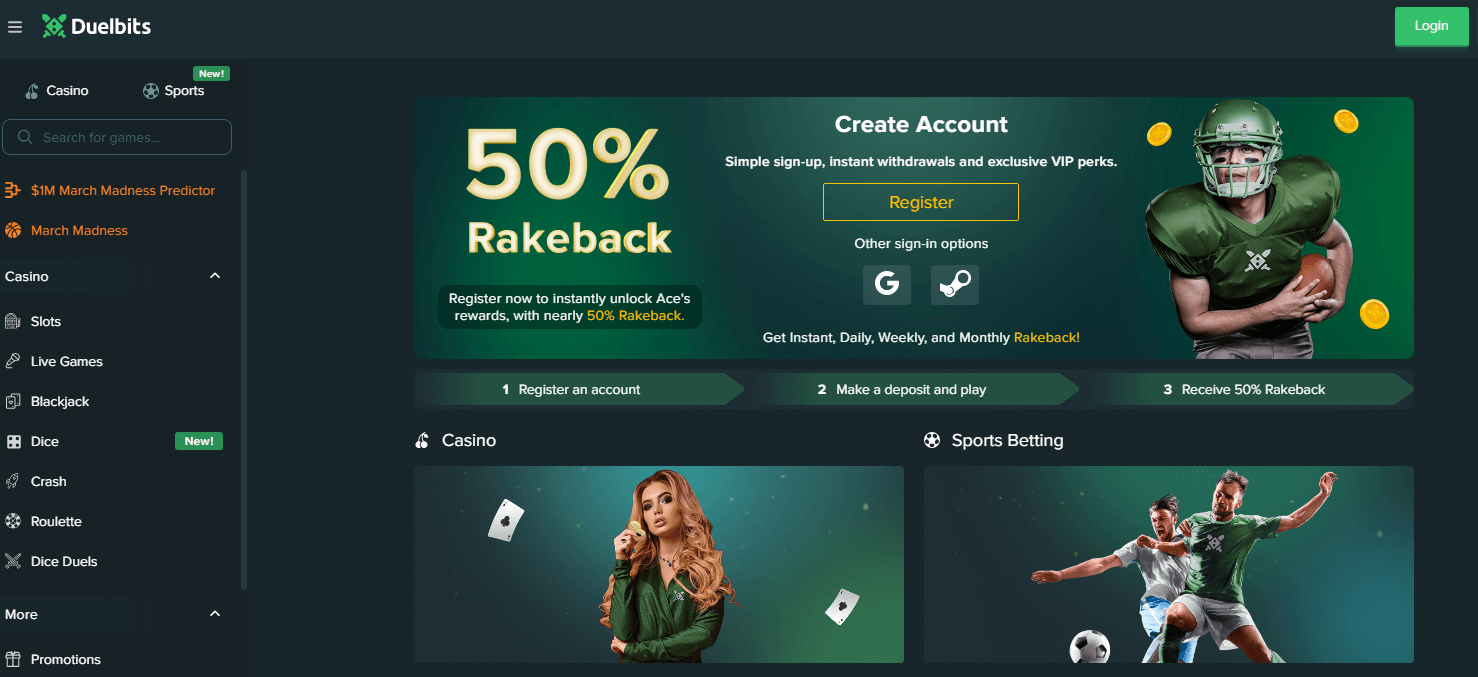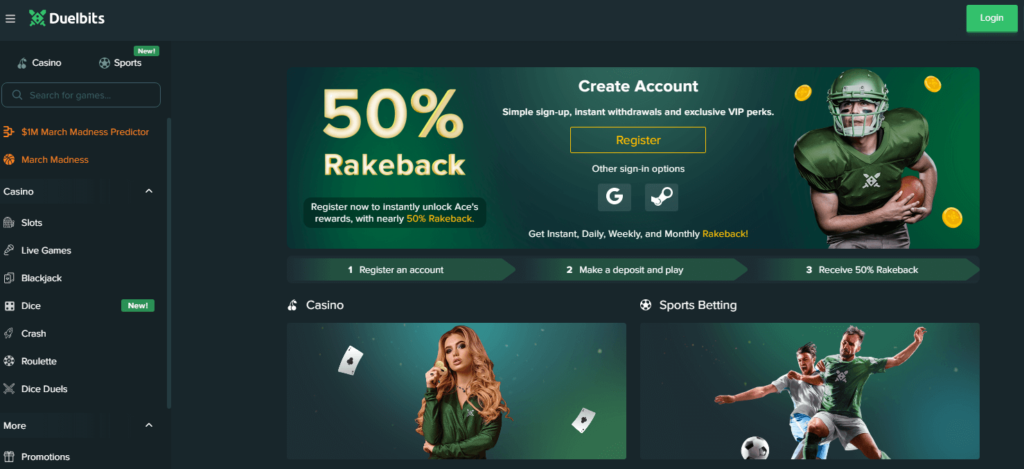 Duelbits provides social networking logins without the need for certification. Duelbits is really easy to use, and creating a casino account is a breeze. Duelbits allows all new players to play by registering with a Steam account or an email address. On Duelbits, each registration is treated equally, and each account receives the same set of features. It suggests that Duelbits only offers one sort of gaming account. To begin the registration procedure, players must accomplish the following:-
Click on the 'Register' button at the top of the page.
Select your preferred method of registration.
After successfully joining Duelbits, users may instantly visit the casino and begin enjoying the website's features and playing games.
Duelbits Exciting Features
Due to the website's clean, beautiful, and gorgeous design, it's simple to get started on Duelbits. As soon as the web page loads, the user will notice two games: Roulette and Dice. They can also look at the bets on these games. The site has all of the necessary features, such as help and rewards, and the system of provably fair gaming is available from the main menu.
The website also offers a community chat tool that shows how many active gamers are online and allows them to communicate with one another. Account information may be accessed from the upper right corner, and all information can be viewed with a single click.
The Rakeback option, which lets gamers receive cashback when they put in wagers, is another feature that customers like. Even if they don't win, they can still get a percentage of their money back by placing certain bets or playing specific games.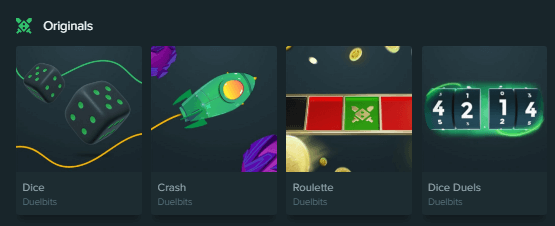 Because the ROI is automated, the risk is substantially lower than projected. It's a win-win situation for everyone and a great incentive to try some of the other bets and games that the player may not have played previously.
Diverse Casino Games Offered at Duelbits
Duelbits offers hundreds of casino and sports games, and the website is updated on a regular basis to satisfy a wide spectrum of players. In comparison to other CSGO casinos, the website is a well-known CSGO betting site with a diverse selection of games.
Duelbits games are developed by 31 different firms, including Evolution Gaming, Liquid Gaming, Red Tiger, Playson, Pragmatic Play, etc. Players may also order their favorite games alphabetically or by rank. Duelbits offers a variety of gaming options, including:-
Slots
Unlike other crypto casinos, the slots on Duelbits offer a higher than average return to players. A slot machine's RTP reveals the amount of money it may payout during a course of time, and a greater RTP usually suggests a larger chance of profit.

Live Games
Duelbits online casino also has live games from several popular game providers.
Blackjack
Duelbits blackjack tables start at USD 1 and go up from there. Gamers who wish to try out these games may use the platform's many features. Users who despise the long wait periods inherent with traditional BlackJack games can opt for virtual crypto blackjack. Crypto blackjack lets players play as soon as possible. Duelbits blackjack supports all major credit cards and cryptocurrencies.

Crash
"Crash" is a proprietary casino game available on Duelbits. Players are free to gamble whatever sum they like, and they can cash out whenever they want and use the multipliers displayed on their screens. Players cannot withdraw funds before the crash of the rocket; if this occurs, they will forfeit their whole bet.
It's an exciting game since the multiplier might collapse at any time. A lot of gamers make a lot of money. Players can check the fairness and the the Crash multipliers' unpredictability, thanks to Duelbits' trustworthy, provably fair process.
Dice
Dice games occupy a particular place in the hearts of casino gamblers all around the world. Despite the limited amount of casino dice games available, they nonetheless provide an entertaining online casino experience.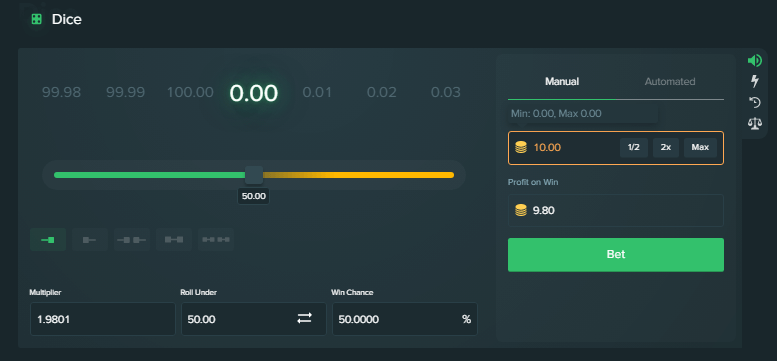 Roulette
The site has improved its service by adding a variety of games, such as roulette. In roulette, a real-life dealer interferes with the players. On the site, there is a roulette game where the player may wager on three distinct colours: red, green, and black.
When betting on red and black, members may profit 2x their bets, and when betting on the green, they can profit 14 times their bets. The gamer should be aware, however, that striking the green is quite uncommon. One may estimate the likelihood by checking the "Last 100 Rolls" or "Previous Rolls."
Dice Duels
Dice duels, where numerous players compete for a crypto prize pool, are a popular in-house game. Each player receives a randomly selected ticket between 0 and 100.
Those who roll the greatest number of tickets win a reward equivalent to the total entry fees paid by all competitors. Duelbits Dice Duels is an interesting game, especially when played with a group of people. According to this Duelbits review, they use a provably fair method that allows users to verify the fairness of each Duelbits Duels game outcome, proving that the website is legitimate and fair.

Exciting Sports Games on Duelbits
Duelbits has created a new section for sports games. Duelbits sports games are especially unique for the casino's incredible selection of live events and activities. Duelbits has now classified the sports section into two groups: inactive and active sports.
The following games are considered active sports:-
93 Basketball Games
3 Aussie Rules Games
6 Badminton Games
24 Floor Ball Games
1 E-Basketball Game
4 Bandi Games
18 E-Soccer Games
9 Boxing Games
18 Football Games
At Duelbits, inactive sports include:-
Rugby League
Alpine Skiing
Arena Of Valour
Squash
Baseball
Water Polo
Basketball 3×3
Rocket League
Beach Soccer
Starcraft
Netball
Pool
Padel Tennis
Beach Volleyball
Rainbow Six
Wrestling

Duelbits Review: Pros and Cons
| Pros | Cons |
| --- | --- |
| There are a variety of slot alternatives. | The Duelbits website isn't available in many regions. |
| Without KYC, registration is quick and straightforward. | |
| Players can use the website from the comfort of their homes. | |
| Various live dealer and sports betting games are available. | |
Exciting Bonuses & Promotions at Duelbits
To take advantage of the instantly active rewards in the account, players simply use a free promo code and go to the green Claim page. Duelbits Aces Rewards is a big bonus that encourages active and dedicated platform users. Ace's Rewards may be accessed with a promotional code found on the Duelbits website.
Duelbits' social media accounts regularly post dozens of new promotional codes, primarily on Twitter. Users may refill their credit on the website with a free bonus amount using discount codes.
The platform's Instagram page lists daily challenges, competitions, freebies, bonus codes, etc. The challenges can be for any game, and the player usually has to reach a specific win multiplier, such as x300 their stake, to win a fixed amount of money. Challenges, on the other hand, aren't limited to website games; they can also include competitions for creativity.
For example, in October, the gaming platform hosts Halloween Challenges, with a USD 100 prize awarded to the person who uploads the best Halloween artwork. The section also provides trivia tournaments, and the website has only recently started hosting competitions on its Twitch channel. It initiated this new approach with its "Among us" campaign.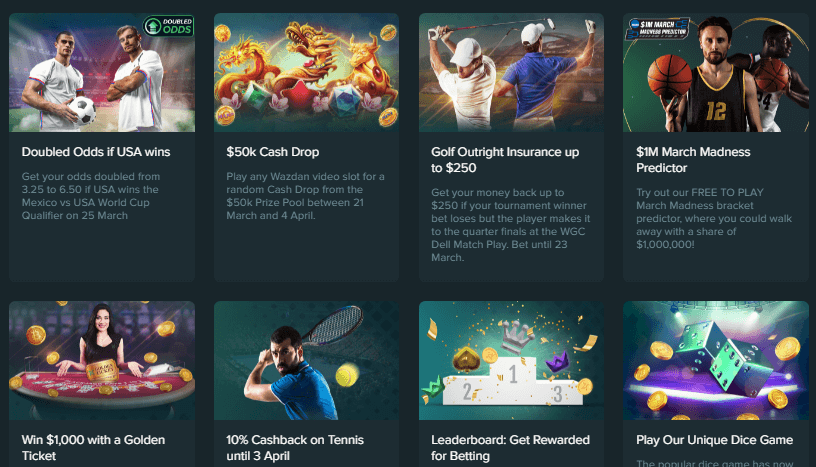 Duelbits Affiliate Program
Duelbits offers a chance to earn extra cash through its affiliates program. It typically involves referring a person to sign up on the site using a link or code. Those who refer receive extra funds from Duelbits depending on the referral's wagers. Duelbits has a single type of referral code. Most gamers will find bonus offers in Duelbits reviews.
Using a referral code is easy, and one may do so by following the instructions below:-
To gain access, select the relevant login option.
Select the Reference tab from the menu on the main page.
After inputting the reference code, use code.
Ace's Rewards are credited to the customer's account when the information is entered.
Amazing Ace's VIP Lounge by Duelbits
Duelbit's Ace's VIP Lounge is one of the most tempting and profitable incentives available. Duelbits players may advance to new VIP lounge levels by betting and gambling with cryptocurrencies. Each level provides significant one-time rewards as well as increased cryptocurrency refills.
Compared to other cryptocurrency-accepting casinos, Duelbits makes it easy to acquire VIP status; players may reach the VIP level 'Joker' by only spending $1000.
Duelbits includes several VIP levels with fantastic rewards to be won. Duelbits is encouraged to be the principal crypto casino for many casino players. After enrolling with Duelbits and testing out interesting casino games for a faultless gaming experience, users may begin earning their free VIP reward.

Duelbits Diverse Banking Options
Players must first browse the Cashier tab, click on Deposit, and select the desired deposit method to make a deposit. Visa, Mastercard, PayPal, Skrill, WebMoney, and cryptocurrencies, including Ethereum, Litecoin, Bitcoin, and Dogecoin, are among the deposit payment options available.
According to this assessment, all deposit options on Duelbits are instantaneous and free of issues. One of the most significant advantages of bitcoin gambling on Duelbits is that payments with cryptocurrencies allow gamblers to discreetly place a wager. It's important to note that if a user registers through Steam, they can pay with CSGO credits.
It's also worth mentioning Duelbits' withdrawal alternatives. To withdraw cash at Duelbits casino, users simply go to the Cashier tab, click Withdraw, and then pick the desired payout or withdrawal method.
Unlike deposits, Duelbits withdrawals are limited to cryptocurrencies such as Ethereum, Bitcoin, Dogecoin, CSGO, Litecoin, or skins. Duelbits has a fast payout and cash-out system. People are not required to submit data or personal information for payouts on Duelbits.
Visa, Mastercard, PayPal, Skrill, WebMoney, and cryptocurrencies, including Ethereum, Litecoin, Bitcoin, and Dogecoin, are among the deposit payment options available for deposit and withdrawal options.
Duelbits Restricted Countries and Territories
Aruba, Bonaire, Curacao, Australia, Malta, France, the Netherlands, Singapore, Denmark, the United States of America, Spain, the United Kingdom, and several other countries prohibited or barred from participating in Duelbits. Players from a banned or restricted region listed on the website are prohibited from playing the games.
Duelbits Customer Support
All gamers can contact Duelbits customer care 24 hours a day, seven days a week. Duelbits is one of the top legitimate casinos that give real and meaningful solutions by responding to consumer concerns. Duelbits players can contact customer service using the support website's live chat function.
Players can also contact support@duelbits.com if they have any questions or concerns. The team answers all queries within minutes in the great majority of situations. It's worth mentioning that the platform requires the player to enter the chat from their registered profile and receive the I.D. for the support service to deliver a more timely response.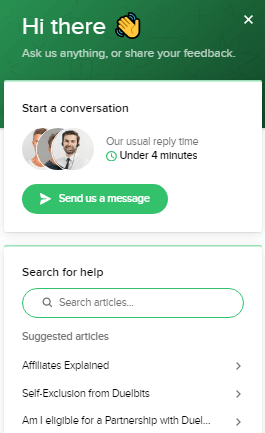 Duelbits License & Security
Duelbits Casino adheres to industry-standard terms and conditions as well as vulnerability grading taxonomies. The Bugcrowd Security vulnerabilities Rating Taxonomy assists in the development and dissemination of user-facing security holes queries. Each contribution is reviewed by the Duelbits security team based on who spotted the bug first.
The casino offers a prize to the first person who reports a previously unreported security issue to the security team. The issues aid the casino in developing a code or configuration to improve the atmosphere, making it safer for all players, including high rollers and first-timers.
Duelbits Review: The Verdict
Players prefer this amazing gaming casino for a variety of reasons, according to us. Duelbits is a well-known and respected firm that works with some of the most well-known software companies, such as Pragmatic Play, to create a provably fair procedure that improves the system's reputability, credibility, and fairness. Players can choose from a variety of casino games, including monopoly, roulette, and dice.
Duelbits casino is a reputable and legitimate online casino with a growing Duelbits community. It is constantly extending its game selection and other casino services while maintaining a professional, accessible, transparent, and fair environment for all players.
FAQs
Is Duelbits a Legit Platform?
The Curacao government regulates and licenses the site, which also controls and licenses hundreds of other major and small online gaming companies.
Is Duelbits Safe?
Yes, Duelbits is a safe and licensed online casino that uses provably fair algorithms to ensure that games are fair and random.
Who Is the Owner of Duelbits?
Liquid Gaming N.V. (153298), situated in Curacao, manages Duelbits.
Is Duelbits Available on Mobile?
Duelbits does have a mobile app.
Is Duelbits Provably Fair a Game Provider?
Duelbits is a reliable online casino with a fair gaming system that can be verified. The method allows participants to verify the fairness and unpredictability of game outcomes in real-time. It makes every decision a game of chance, making it impossible for Duelbits site owners to rig the games.