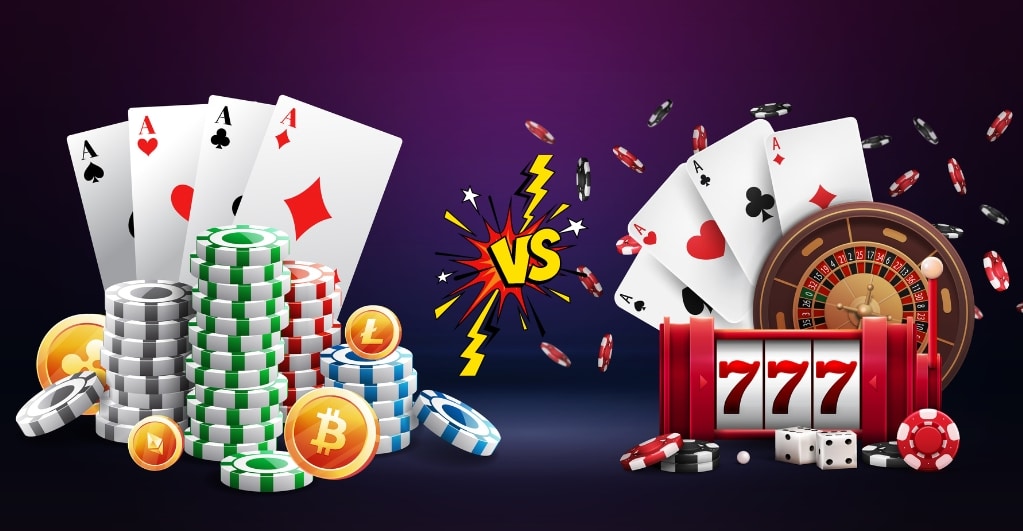 Cryptocurrencies are becoming a norm in the gambling industry. The digital assets are allowing online casinos to facilitate quick, economic, and anonymous transactions.
That is why many players are choosing crypto casinos over traditional ones. However, many are still reluctant about the choice due to a lack of understanding. Crypto casinos work similar to traditional gambling platforms, except they operate online and accept crypto as a payment method. Learn every important difference between crypto and traditional casinos to make the right decision.
What is a Crypto Casino?
A crypto casino is an online gambling platform where players can use crypto to make deposits and withdrawals. They accept popular cryptocurrencies like Bitcoin, Ethereum, Litecoin, Shiba Inu, and Dogecoin commonly.
Since these transactions are blockchain-based, crypto casino sites offer high security, quickness, and transparency.
How to Play at a Crypto Casino?
Playing at a crypto casino is simple once users have chosen a reliable platform. It starts with users reaching the casino and creating an account. Usually, they have to submit information like name, email address, country, and password.
Afterwards, users should verify the email and make a deposit using their preferred method. Now, they can choose any casino game they want to play. Most crypto casinos offer popular games like poker, baccarat, blackjack, slots, and live dealer games.
Difference between Crypto Casino and Traditional Casino
Here are some of the major differences between crypto and traditional casinos:
1. Currency Support
Currency support is the most prominent difference between a crypto and a traditional casino. Regular gambling platforms accept fiat currencies to measure and exchange value. These currencies include US Dollar, British Pound, Euros, Australian Dollars, etc.
On the other hand, crypto casinos accept cryptocurrencies like Bitcoin, Litecoin, Ethereum, Bitcoin Cash, etc.
2. User Safety
Security is a major issue among casinos, especially on the internet. However, both traditional and crypto casinos have different security aspects to cover. Traditional casinos involve more tangible security with cash and chips.
Contrarily, crypto casinos deal with payment and user data. That is why they use crypto wallets that encrypt user information. These wallets do not share any user information while keeping the cryptocurrency stored in cold storage.
3. Transparency and Fairness
Transparency and fairness are also crucial factors that differentiate crypto and standard casinos. Traditional casinos generally offer around 3-15% house edge depending on the game and user.
However, crypto casinos use RNGs (random number generators) to facilitate a fair gameplay. Several reputed casinos even offer a provably fair gaming experience to users. Since all these transactions are recorded on a blockchain, customers can verify them.
4. Game & Seating Availability
At traditional casinos, users may have to wait to play games. However, crypto casinos always have a seat for players. Customers can even switch between games without leaving their seat.
At the same time, some of the best crypto casinos offer a ton of gaming options to players. iGaming providers even produce new games with better features and themes to attract users. These games are secure, rewarding, and entertaining. However, traditional casinos mostly include a limited number of games.
Final Thought
The differences between traditional and crypto casinos are huge. This enables a drastically different gaming experience for users. That is why customers must consider these differences before making the final choice.
While both traditional and crypto casinos offer esteemed features, they cater to different audiences. However, crypto casinos offer a better and advanced gambling experience to players, in general. So, players should try a reliable crypto casino to start playing and earn real money.